Cheeky Gifts by Kate Early
Hello Readers,
Kate Early here and so excited to be on Cheeky Reads. I am one for the authors from the Ravenous Romance anthology "
Werewolves in Love
" cause hey - werewolves need love too! Oh and they like presents just like the rest of us.
My two characters exchange gifts in the book and they are a bit tongue and cheek. Which got me to thinking about what I have been giving the ones I love. Are the presents fun enough?
My family has been known to do some fun gifts. I got the Wallace and Gromitt DVDs for Christmas and a group of the cheeses that they mention in the animated shorts. My BFF's College graduation, I got him a whole bunch of retirement themed gifts - since he was retiring from his school career. But maybe I have run out of juice?
I managed to have my two heros give each other some pretty funny surprises, but now I am out of ideas for my real live sweetheart. He hates chocolate, but likes Charleston Chews - so I got a bunch and used hot water to melt the outside off. I have done rose petals on the bed - as a florist word of advice here - lay them on an outer blanket then strip that off. Roses have a ton of chemicals on them. He got a rash. So he doesn't like sweets, gets excited by receiving toys - toy helicopters - video games - wii. But that is not really fun in a cheeky sense. So anyone got any ideas?
You can check an excerpt from Enforced Will from the Werewolves in Love Anthology below and comment with a suggestion for a cheeky gift to enter to win my M/M Romance -
Full Load
Thanks for having me!
Kate Early
KateEarly.com
From Enforced Will by Kate Early
February 13, 2009
Subject: V-Day
I sent you something to brighten up your cabin with. Should be delivered tomorrow.
- Will
Re: V-Day
William,
I look forward to it. Since you go through more groceries then a sumo wrestler, I sent you a little something too. Enjoy.
-Vincent
* * * *
February 14, 2009
Vincent's Cabin, 2:27 p.m.
"Hang on a sec." Vin opened the door, coming eye to eye with dozens of flowers. Roses, lilacs, lilies, hyacinths, and just about every growing thing that set off his allergies.
Behind the massive arrangement was a petite woman with a clipboard under one arm. "I have a delivery for Mr. Vincent Mancuso from William Brand."
He didn't want to send the woman running, but the words rolled out on a growl anyway. "That would be me."
"Sign here." Her smile was genuine and warm. "I just love when men send each other flowers. Stereotypes are wrong. Everyone likes flowers." The door shut firmly in her face.
William's Apartment, 3:42 p.m.
"Delivery for you at the door, Will." His ears perked up. What would Vin send him? When he hit the living room, he had to reassess. This couldn't be Vin. Who would send him ten somethings?
Spy Boy looked up from the candy he was already enjoying out of one of the baskets. "Someone knows you like mangoes. Every one of these is either mango flavored food, mangoes, or all that fruit body scented shit. Figured you wouldn't mind if I grabbed some." He indicated the open bag in his lap.
"Sir, can you sign for all this? Your secret admirer went all out. This is the largest delivery I have ever done all to the same person."
"Ooooh! Will has a secret admirer." The singsong tone grated on the nerves.
"Yep, one who knows I am allergic to mangoes." Vin was evil.
If you want to meet Will and Vin check out Enforced Will in
Werewolves in Love
. - Read an Excerpt from Enforced Will -
HERE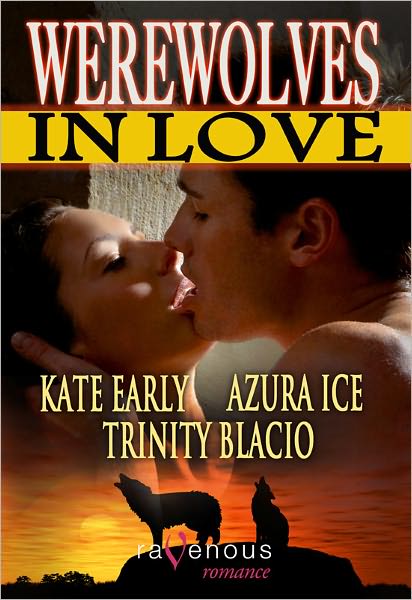 Werewolves in Love
by Kate Early, Azura Ice, and Trinity Blacio
In this collection, you'll find three sizzling novellas of supernatural love and romance.
In Heart of a Were by Azura Ice, you'll find out what happens when a were mated for life is widowed...
Best-selling ménage author Trinity Blacio shows us what happens when Cupid gets hit by his own arrow...
and Kate Early's M/M BDSM werewolf lovin' in Enforced Will should leave you panting for more.
Buy Werewolves in Love at Amazon.com
Werewolves in Love at Barnes and N
oble
Werewolves in Love at ARe